MP3 Rename will rename mp3 and other files according to many rules that you specify.
Features of MP3 Rename:
Read/Write ID3 v2 tags (Including Unicode tags)
Fully configurable name format of ID3 tags.
Unpack .zip, .rar, .ace files using your favorite unpacker.
Preview before renaming.
Moving files into folders (e.g. Artist name folder)
Creating ID3 info based on filenames (configurable)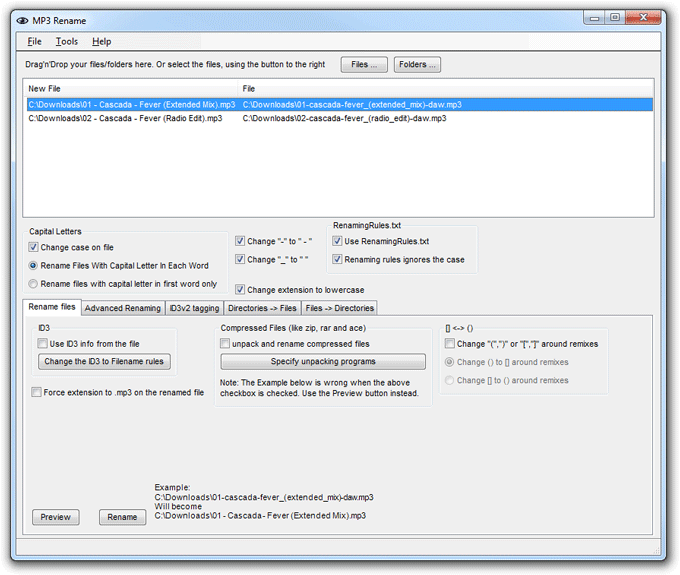 I wanted to rename my MP3 files into a more readable format after downloading them.
Files like "bon_jovi-Bad_medicine-bf!!.class" was becoming boring to rename. So we created a program to do that for me.
If you have ID3 tags in your mp3 files, and want to rename your files, using this information, this is the tool to use.
You can specify ANY format, within windows file naming standard, that you want to rename your MP3 files to.
Most MP3 files will not have ID3 info, and you can still benefit from this.
If you have named your file correctly, but are annoyed by the "_", Wrong Case, etc, then you will still benefit from MP3 Rename.
Does your file look like bonjov~1.mp3 and have no ID3 tag? MP3 Rename will not help you here.
MP3 Rename will also rename non MP3 files through a limited renaming process, just like the MP3 files that didn't have any ID3 tag.
I did not create any installation kit for this program.
Please let me know if you want one, and I will create one, if more than 1% of you want to have an installation kit.
You will need to have .net framework installed.
You can get this from windowsupdate or from MSDN Downloads.
Ratings:
5 of 5 by fileflash.com
4 of 5 by softlandmark.com
4 of 5 by webattack.com
4 of 5 by softodrom.ru
4 of 5 by mp3hispania.com
4 of 5 by stahuj.cz
Todays internet jewel by digi.no
Purchase?
The tool is completely free!
The No Design Software Team